Course Description
These courses are dedicated to advancing insect rearing through formal science and technology education with up-to-date rearing practices, data driven research, quality and process control in rearing systems, quantitative diagnostic techniques and insectary problem solving through a multidisciplinary approach.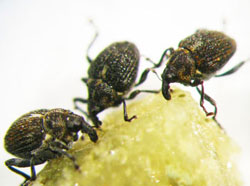 The insect rearing courses will be taught through the Office of Continuing Education and Professional Development. They will be offered for Continuing Education Units (CEUs) and Professional Development Credits (PDUs), and they are self-paced. There will be course tiers for which levels of certification may be earned upon their completion.
Each course will consist of 30 hours of lecture provided on demand (students can tune into lectures when their schedule allows, and they can complete the course in their own time frame, within an 12 week period). You will take self-grading tests to assure your complete understanding of the topics. You will also be able to ask Dr. Cohen questions about rearing issues covered in the classes, including relating the course subject matter to the students' rearing experiences.
Who Should Attend
These courses are rich in information on all aspects of insect rearing, so everyone who rears insects would benefit from these courses. The courses are aimed at helping people who rear insects understand the complexities of the entire range of rearing organization (insects' biology, feeding habits in relationship to rearing quality, basic physiological ecology in a rearing framework, diet chemistry and physics, microbial interactions in the rearing system, quality and process control in rearing systems, and many other subjects that clearly need understanding and attention in order to rear quality insects).
Why You Should Attend
The courses were designed by and are taught by Dr. Allen C. Cohen who is author of Insect Diets: Science and Technology and more than 100 papers published on insect rearing issues and who has worked successfully in insect rearing laboratories since 1979. He has experience in developing and improving rearing systems for more than 75 species of insects from 10 orders and about 40 families.
The courses explore all aspects of rearing and are designed to improve the competence and professional qualifications of rearing personnel.
The courses are structured to optimize the balance between interactive course content with timing of lectures and responses to questions (self-timed access to course content, including ability of students to have portions of lectures repeated while they can get questions answered promptly to get feedback that reinforces their understanding of concepts and details).
About the Instructor
This new online, self-paced series of courses in insect rearing will be taught through North Carolina State University by Dr. Allen Cohen.
Dr. Cohen helped establish the insect rearing workshops at Mississippi State and later taught workshops in Arizona and at North Carolina State University. He has gone forward with his vision for the discipline of insect rearing by launching the Insect Rearing Education and Research Program (IREaR) at NCSU in 2011. He has also been teaching on-site classes in insect rearing at NCSU (please see "Course Comments and Evaluations")
Course Fee