Earn a credential to demonstrate you have mastered advanced Spanish in health-related professions.
"The Bureau of Labor Statistics projescts a 22% increase for bilingual professionals by the year 2018."
Source: The Bureau of Labor Statistics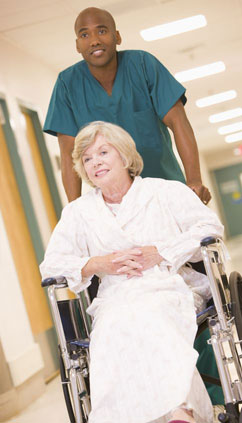 "There are not many translators around at night (at the hospital), so it is up to us to communicate with the patient in all but the most dire of situations. To top it all off, it was Christmas night, and the patient just wanted to be home with his family. The doctors and nurses were growing more worried because he had not left his bed for several days. His condition was a highly treatable cardiac arrhythmia, which required the implantation of a pacemaker. I found that nobody had taken the time to explain this clearly to him, and he seemed very relieved when I told him that the procedure is very safe and that he had an excellent prognosis... I really feel like I made a difference in the care of this patient."
-Ray Antonelli

Why You Should Earn Your Certificate in Spanish for Health Professions?
The demand for bilingual Spanish-speaking healthcare workers continues to grow
Bilingual healthcare workers are needed in hospitals, clinics, outpatient facilities, hospices and physicians' offices, emergency rooms, and health insurance companies
Increase your marketability in finding a job or getting that promotion
Set yourself above your peers, leading to advancements in position and earnings
Prove your knowledge and competence in Spanish for health-related professions
Demonstrate to your employer that through your effective communication skills, patients will receive proper care and will be at ease, and you are able to communicate critical patient health information and talk to family members
Can be completed in two hours or less
Who Should Earn This Certificate?
Nurses
Physicians
Physician Assistants
Medical Assistants
Receptionists
Case Workers
Medical Billing Specialists
Lab Technicians
Individuals interested in health professions
Recommended Prerequisites
It is recommended that you have the following:
Three years of high school Spanish or three semesters of college Spanish
FLS201-603, Spanish for Health Professions, is a 3-credit online course offered through DELTA at NC State University.
Experience using intermediate-level Spanish in a medical setting
Comprehensive medical terminology
About the Exam and Certificate
This two-hour online exam will assess your reading, writing, medical terminology, and grammar skills in Spanish for healthcare. During this self-paced exam, you will be asked to:
Write a letter requesting/providing health-related information
Answer comprehension questions on a health-related topic
Complete multiple choice and/or true-false medical terminology and grammar questions
The exam is Pass/Fail; if you do not pass the exam, you may take the exam again. Please note that you must pay the registration fee each time you take the exam.
Upon successful passing of the exam, you will receive your non-credit Certificate in Spanish for Health Professions from North Carolina State University. This is a one-time certification-you do not need to get re-certified every year.
Registration Fee: $150 (non-refundable)
Proctoring is required. Please find a convenient proctoring site in order to take this exam. Refer to the map for locations.