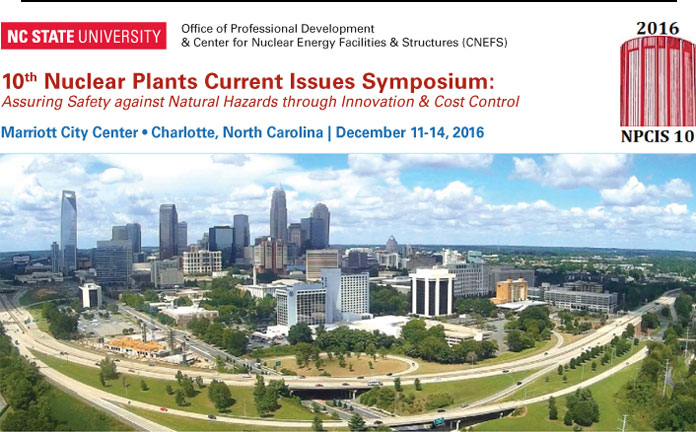 ---
Welcome
We proudly invite you to our unique biennial event, the 10th Nuclear Plants Current Issues Symposium (NPCIS 10) and are ready to welcome you in Charlotte!
The 10th Symposium will present the latest advances on assuring safety against natural hazards including floods, high winds and seismic events. A seismic event may cause fire and flood at a plant, which will also be discussed.
The modern methods consist of probabilistic hazard analysis, fragility evaluation and risk assessment, and deployment of high-performance computing as well as experimental and real-life experience data.
Probabilistic risk approaches can streamline plant operation and account for the contribution of FLEX toward enhancing safety resulting in significant cost savings.
The impetus of the ongoing and planned actions primarily came from the recommendations made by the U.S. NRC's Near-Term Task Force (NTTF) in the aftermath of the Fukushima event.
Future scientific advancements may change the frequency and intensity, even the basic understanding of hazards. Speakers will discuss the present thinking on the circumstances and the manner those changes should be addressed by the operators of existing plants.
Unique Features
As in the past Symposiums, all NPCIS 10 speakers, presenters and panel members are invited leaders and experts from the industry, regulators and government. The event consists of three days of single-track, non-breakout sessions. It offers valuable opportunity to the attendees for networking and free discourse with each other and invited experts.
Who Should Attend?
Executives, managers, & senior engineers
Operators
Vendors
Architect-engineers and consultants
Regulatory agencies
Decision makers & researchers
Industry organizations
Government agencies
Laboratories
Universities
Everyone who must be up-to-date with current issues
---
Gold Sponsors

---
Sponsors

---
Co-sponsors

---
Professional Societies

© 2016 | North Carolina State University>